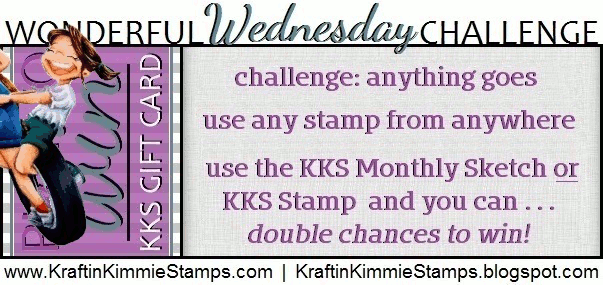 We want EVERYONE to be able to play along so your submission can use ANY stamp and can be any theme, any style, any design and it can be a card, a scrapbook page, an altered item....you name it!! It must be a NEW creation and you can enter on this post until July 25th at midnight! At the end of the month one random winner will be chosen from all the submissions for the whole month and will receive a $20 Gift Card to the shop!!! What do you think.....wanna WIN?? Let's see your krafty stuff!!
In addition to the great Krafty Challenges & Wonderful Wednesday, each month we will post a Sketch. The sketch will last all month long and if you use it in ANY of our Challenges or WW's during that month you will get an additional chance to win a store gift card! You do NOT have to use the sketch, it's just a little extra boost for your mojo if ya need it! Here is July's sketch...
Hey all, Krafty Girl Jammie here with a spooky creation for you to get those Halloween juices flowing! Well, coffee flowing! he he he! I decided to take sweet Angie here and make her into my inner Coffee Zombie. I love playing with alternate skin tones and making things into something unexpected. Plus, you all know, when there's coffee involved, I'm totally THERE! I hope that you love my spooky creation!
Copics used:
Skin: C5, C3, C1, C0 and Colorless Blender
Hair: G99, YG67, G05, YG06, YG13, YG23, and YG00
Bathrobe: V09, V06, V04, V01, V000
Cup and hair clips: R85, R83, R81
Eyes: B28, B32, B12, BV02, C01, C0, colorless Blender, Multiliner .05
Clip and coffee paper from Doodlebug
"Boo!" paper from My Mind's Eye
Purple textured paper from The Paper Studio
Ribbon from Recollections